Yosemite National Park
I have been to Yosemite twice and both times I felt like I needed more time exploring all of the majestic sights this incredible park has to offer. It was no wonder John Muir spent all his days and nights trekking through these mountains and eventually convinced President FDR to protect parks like this after ONE camping trip together here. If the "mountains call you" and hiking is your cup of tea (or coffee for those who can't go a morning without it), this is your heaven on earth. Whether you would classify yourself as a level one hiker or a level 12 hiker, there's something for everyone. I'm not going to lie, the BEST views are quite a journey to get to, but trust me, it's worth the blood, sweat, and tears. But, there are definitely great views that are easy to access if you cannot make the time for multi-hour long hikes. With that being said, the easier the hike, the more tourists you will be sharing the trails with. I will share with you our take on the three days we spent in Yosemite this summer.
Tips before you go: If you are camping like we did, BOOK ahead of time. These places fill up fast. We are pretty minimal with what we bring in terms of food, much to the chagrin of our fellow campers when we are on food duty. Easier and simpler, in our opinion, is better. Anything that you don't need to refrigerate is key. PB&J has been a staple of camping for a hundred years, and I'm sure it will remain one for the next hundred. Know that you will have to lock up your food in a provided bear proof container when you are not using it. Our camp ranger made plenty of visits to us to reprimand us for leaving food out. "But its only a case of eggs, there can't be a smell!" Matters not.. Lock it up. There is plenty of access to stores and restaurants around Yosemite, don't forget to bring bug spray. And, like everywhere we go, bring a hammock! There's plenty of trees here to hang them on. We camped at Crane Flat which was about 30 minutes away from the main Yosemite area and there was a convenient store with food, ice, and firewood less than 10 minutes away.
Lower Yosemite Falls - is a very lax hike and it's up to you how close you want to be; you can enjoy the falls from afar, or you can hop through the rocks and feel the mist of the water. Please, only do this if you are very confident in your ability to climb and traverse very uneven and wet terrain. We got as close as we could, found a nice big rock, and ate our sandwiches with streams running under our feet and mist hitting our face.
Lots of people around for sure.
Overall, easy paved hike and a pretty sight, but you don't need much time here. 4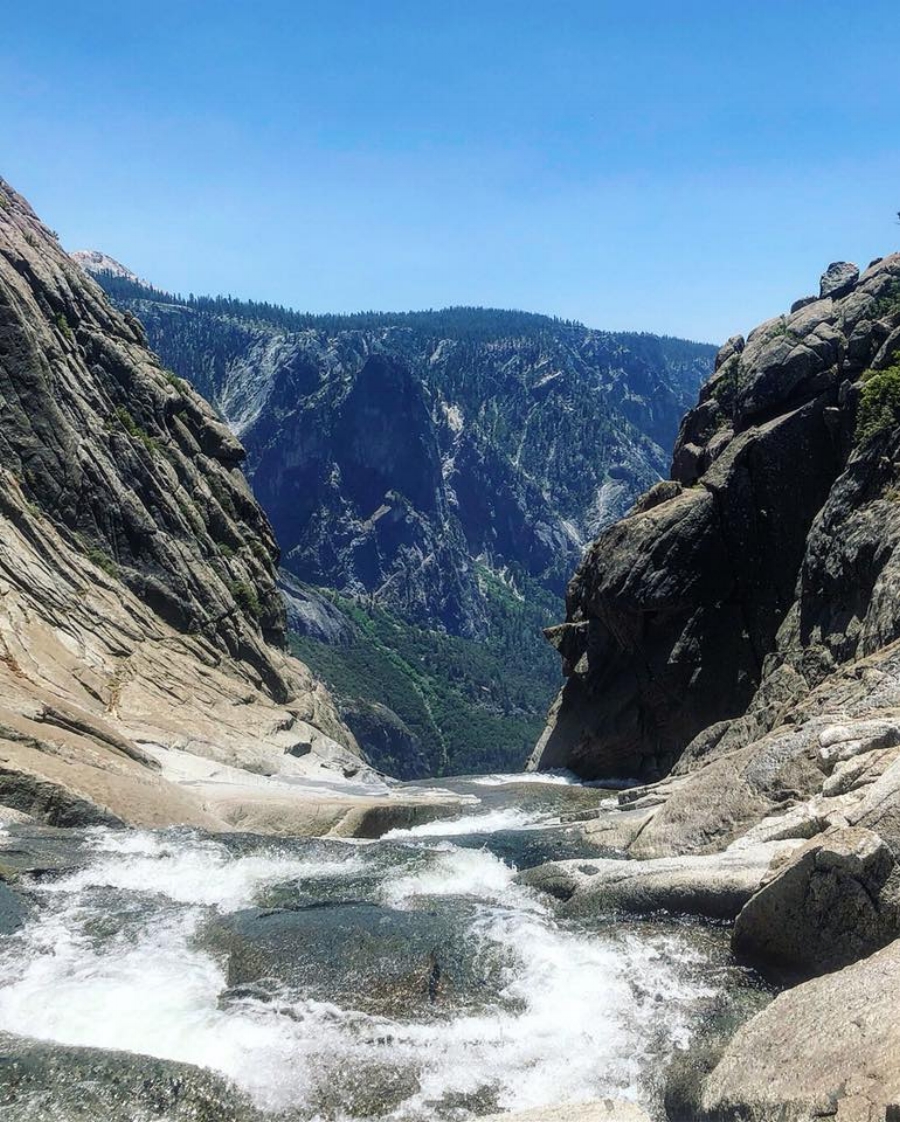 Upper Yosemite Falls – This hike is NOT for the faint of heart. But if you like a challenge and want a kickass view GO GO GO. Also, who else can say they swam and tanned on the top of Yosemite's mountains in the upper tiers of Yosemite Falls?! After this hike YOU can. This was more of something Ryan and I liked to do. Suffer through the uphill battle and breathe on top knowing, "We did that"! You will also find out how capable and resilient you can be. And let me tell you, the views and what you get to do at the end of this hike are more than worth it. The hike was a little over 3 miles one way but it is ALL incline. When you get to the top, enjoy that view, but don't stop there! Keep going towards the waterfall and find the pools the waterfall creates before plummeting over the final edge. If it's warm enough like it was when were there (July) you will have no problem jumping right in for a long swim and then drying out under the warm sun. We spent about 2 hours up there, talk about a poolside view. Bring PLENTY of water on this hike. If that gets too heavy, bring a filter and fill it up along the way with the streaming water. We ran low on water and did not have a filter, so we ended up drinking it anyway. We were fine, but drink straight from the source at your own peril!
Overall, a difficult hike that can take up your entire day, unique, less foot traffic, breathtaking views. 9
Mariposa Grove – There was a lot of construction going on when we went to Mariposa Grove to see the Giant Sequoia's so I think our experience was a little different than yours might be. We had to take a shuttle to the trails. Be aware, you can not take a dog onto the trails unless it is a service dog, and they will ask for the papers to prove it. Trails are very friendly, paved, and railed—good for families and older folks. You do not need much time here. Just make your way to the Giant Grizzly Tree (which is truly GIGANTIC and beyond impressive!), but then you can go.
Overall, good side trip, especially if you're a tree lover. 4
Random Exploring and Getting Lost
One thing Ryan and I really love, is stumbling along through the unmarked trails and making an effort to explore on our own. We seek the places that are not advertised, we hunt for those hidden gems, we get Lost At Will. We knew we wanted to see the main falls but we parked a little farther off. (I'm not going to lie, it was unintentional, haha) This forced us to hike through areas we never would have found otherwise. I wish I could tell you exactly where we were but there isn't a clear spot to direct you to. It was roughly 2 miles down the start of Lower Yosemite Falls trail and across the main road. Here, we saw about 4 deer roaming through and around the trails and we were able to swim in the creek. White pollen (we called it magical dust) was flying everywhere, it really was something out of a fairytale. Deer sharing water with you, flying magical dust, mountains touching the sky—where was Snow White at?? Not too far along from here, we also found empty fields with a 360 view of the mountains surrounding us. The grassy fields were waist high and moved with the winds. I could lay in those fields for hours.
Overall, a great time to spend in nature with your loved one, almost no one around, magical. 10
Other than those specific places, everywhere you drive, there's something to see. We stopped a couple of times to see half dome and viewpoints--cruise around and stop when something catches your eye. Next time, we want to conquer the Half Dome Hike!